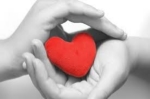 I will always think of this on Valentines Day.
I was a medical student doing my first obstetric rotation in a busy hospital.
A young girl was wheeled in on a trolley – fast.
Within minutes she pushed out her little baby daughter.
I was exhilarated and excited!
It was Valentine's Day and she had been at the neighbouring Waterfront on a night out with her boyfriend. She wore a mini-skirt and a small top. It was hot outside.
She did not know she was pregnant. She did not know she was in labour. Yet her body worked perfectly and she birthed a perfect little girl with a very fast and efficient labour!
I came in later and saw and helped her baby latch and suck beautifully at her breast. For the first and last time.
She wanted to give her up for adoption.
Several months before her doctor had told her she had a cyst. That is why her belly was growing.
I was confused. Her boyfriend told me that 9 months ago she had been raped.
I was sad. That heavy grieving sadness that such horror and tragedy can occur.
It was not only Valentines Day. It was this young girl's 18th birthday. She shared it with her daughter.
A few hours after the birth she was wheeled away to the gynae ward.
Her daughter went to the nursery. The papers would be done for adoption.
I will always remember that day and that young lady who became a mother on her and her daughter's birthday.
And today I wander where that little girl is and what she is doing on her birthday this year?
Did you like this story? Read more here – about real life birth stories in South Africa.
Please share your story and experiences in the comments below.